Curriculum Night : Thursday, October 12th
Posted on: October 6, 2023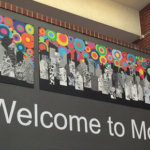 PTSA Pizza – 5:30 pm – 6:15 pm in Gym
Building Walk: 6:00 pm – 6:15 pm throughout school
Classroom visits – 6:20 pm – 8:00 pm
We are so excited to welcome you all into our school on Curriculum Night! If you had a McClure student here last year, you might remember that we experimented with a new format for our Curriculum Night.  It was a student-led experience in which our McClure scholars led their parents/guardians around the school, checked out their classrooms and other spaces and introduced their parents/guardians to their teachers.  We surveyed the staff and our families following the event. Here's what we found: though families and staff enjoyed parts of this format (student-led, absence of bells, not rushing to classrooms, etc.), the log jam of "receiving lines" to meet teachers was frustrating to all and parents wanted a little more information from teachers about their child's classroom experience.
We heard you loud and clear! This year we have a bit of a "hybrid" format to our Curriculum Night which will allow for a little bit of free-form time, a bit of community-building, and then time to experience your child's classes/teachers so you can get a better handle on the entire McClure package! Plus, our wonderful PTSA will be providing a pizza dinner for you starting a little bit before 6:00 (more deets to come).
In planning for the event, please feel free to bring your McClure student with you – we'd love to see them!! But…also plan to have them with you for all parts of the evening as we will not be providing supervision of students.
Also, we will have CHILDCARE! –Two classrooms: one for the super-"littles" and one for older kids. Our wonderful WEB (Where Everyone Belongs) leaders will provide supervision and entertainment for your younger children so you can relax and enjoy the evening.
We will finalize our brochure and agenda this week. This should come home to you via "kid-mail" next week. There will be space on the brochure for your McClure student to enter his/her/their class schedule so you know where you are going on Curriculum Night. 😊 Can't wait to see you there!!