Principal Newsletter 8/11/2022   
Posted: | Updated:
Principal Newsletter – 8/11/2022
August 2022
Dear McClure Middle School Families,
It is my great pleasure to welcome you to the 2022-23 school year. Our theme for the year is "Believe and Achieve. We are knee deep in planning to bolster already very strong practices with our faculty that allow us to "live" our McClure mission of creating inclusive, creative, tenacious, and engaged scholars.
Our team is ready and excited to greet our students and welcome our new students to the McClure family. Like last year, we will emphasize opportunities for connection (and reconnection!) and intentionally provide spaces to build community. Our kids…and all of us!…have been through a lot. Looking back on last fall, I am cautiously excited to approach this year with a renewed focus of our energy on academics and getting back to a more "normal" middle school experience for our kids. Last year at this time we were preparing to meet very strict and complex mandates (6 feet distancing, one-directional up and down staircases, lunch compliance measure, etc).…it was neither easy nor fun. But it was necessary. McClure did an outstanding job of keeping our kids, staff and families as safe as humanly possible and we had one of the best records in SPS of keeping Covid cases to a minimum. That said, we are well-aware that 2021-22 was not a "normal" year and it was very challenging.
I cannot look into a magic ball and predict that this year will be a complete return to pre-Covid normalcy. I can say that we are well-prepared to follow the now more relaxed Covid mandates to keep our kids and staff safe. We are also overjoyed this year to be able to take this important time before the school year begins to collaboratively plan rich, fun, and differentiated learning opportunities for our scholars!
In other good news, I wanted to let you know that there has been some major construction happening at the McClure building site. First, thanks to the BEX levy, our school has gone through a major earthquake retrograde this summer; this gives me a better peace of mind for earthquake safety (though, no one really likes to think about earthquakes! 😊). Additionally, our Science Classrooms have been completely remodeled! Our young scientists are going to be so inspired and engaged in these new digs!
The first day of school is Wednesday, September 7th. This is the week immediately following the Labor Day weekend. We will continue our new tradition of meeting students on the field behind their Advisory teacher (see below: Class Schedules and First Day). More information to come on the first day and week of school!
Here is some important information to help you gear up for the fall.
Stay informed!!
As we learned from last year, things can shift quickly. We will always do our best to give you updated information. Please stay vigilant in reading all communications from Seattle Public Schools AND McClure Middle School.
McClure Middle School: There's an App for That!!
If you haven't already done so, please download the McClure School Info App. It is EASY! Go to the app store and type in "McClure Middle School"…The McClure app will keep you informed with Just-In-Time alerts/information and also provide you with a handy tool for finding "all-things McClure" including staff Directory, portals for the Source/Schoology, School Nurse and Counseling Department memos/resources, school Library updates, etc.
COVID Safety Protocols
Building leaders meet regularly with the District's Covid Team. The District monitors and adjusts our air flow system to ensure a healthy level to protect our community from spread. We also strongly recommend masking, though this is not required. The good news is, McClure has learned to pivot swiftly when conditions changed in the past year! We will keep our community updated if things shift. Stay vigilant in reading McClure and District updates on Covid mandates, vaccination clinics, access to testing, etc. We will keep you informed as soon as we receive information!
Blocked Schedule – Building on what we learned
McClure will continue with our blocked schedule this school year. Our staff is intentionally planning into the extended time that allows them to provide multiple activities to build engagement and provide time and space for targeted interventions and opportunities for enrichment. We learned a lot last year and continue to align on best practices for engagement, collaboration, differentiation, movement, just-in-time feedback, and…JOY!
Transportation Updates:
|We just received notice that due to a continued driver shortage, the District will not start the school year able to serve all General Education students who qualify for bus service. (Reminder, the District normally offers transportation to students outside of the 2-mile, "walk" radius to the school).

Routes will be communicated to families towards the end of August. Remember, McClure has no control over the transportation offered to our families. Visit the District's Transportation website which includes contact information.

Stay tuned for District communications!
New Staff? Not too many!

Michael Holland Band
Levi Painter Math
Hiring Instructional Assistant – Access Program
Terry Fresenius Instructional Assistant Medically Fragile Program (returning to McClure)

Orienting our Kids: The First Weeks of School
We will spend some significant time orienting our students to the building, to the expectations and procedures that keep things positive and orderly, and to what it means to be a student scholar at McClure. Hot news: we WILL be issuing lockers!! (That makes me so happy!) Students will not get lockers on the first day, but we will issue them as soon as is humanly possible! For the first time in my career, we will be teaching, not just 6th graders but every McClure student how to use a locker. I can't wait!!
Laptops:
We are happy to announce that we will be distributing district-issued laptops to all of our students within the first week of school.  Please note, we expect all McClure students to use the district issued laptops for school use.  This helps with our ability to provide technical support and allows students streamlined access to the pre-populated platforms that students use daily (Schoology, One Note, etc.)  Also, our wifi network is optimized for our district devices.

The school district is asking for a non-refundable laptop device fee, $25.00, to cover the cost of all repairs needed across the school year. If your family is financially unable to provide this, please let us know and we will reduce or eliminate the fee. We will include information on how to pay this fee in the first week packet…stay tuned!

Note: If your child accidentally kept a laptop from last year or still has one from summer school, we will let you know the time frame in which to return to school.

We will be cross-referencing our records at the beginning of the school year to ensure we have received all laptops from last year and will be unable to distribute laptops to students who did not return their laptops. For lost computers, please note the following fees:

Student 1:1 Device Repair, Stolen and Lost Guidelines
All Repairs: $25.00 up-front fee covers all repairs on the laptops
  Lost:
Laptop: $350.00 per incident
Charger: $48.00 per incident
Stolen (with police report):  
Laptops: $0
Charger: $0
Access to Building
Until the week before school begins, the building will mostly not be accessible for families as it is under construction and…kind of loud and messy at the moment. If you need to contact staff to make an appointment for a virtual meeting or a phone call – please email (preferable) or call and allow 24-48 hours for a response.
Class Schedules & First Day
Student schedules will be available to view on the Source on Monday, September 5th at 4 pm. They are not final and some changes may be made in the first few weeks of school. Please make a note of Advisory teacher as your McClure student will be lining up with their Advisory teacher on the first day of school on the Big Howe field close by the school. Teachers will have big signs with their names so students can find them easily. Then we will release each Advisory one by one to enter the school and start our first day!
Exploratories
As educators and parents, we want our middle school students to be exposed to as many new experiences as possible in their middle school years to stretch themselves, "explore" and experiment with new ways of thinking and doing. In this light, our exploratory classes authentically match up to their title; students will be randomly assigned to them if they are not already choosing one or more of our elective opportunities (orchestra, band, choir, or Spanish). Some exploratory classes we have offered include opportunities like Art, Science Survey, Psychology, ASB, and Tech Ed. To be clear, students' schedules are developed based first on prioritizing their core class and academic support needs (i.e. Language Arts, Special Education, intervention classes, Math levels, etc.) and electives come second (i.e. Advanced Band, Choir, Spanish). Exploratory classes are then assigned randomly. Students and families may not change their schedule based on class or teacher preference.
---
Until the opening of school, enjoy the rest of your summer. I am greatly looking forward to connecting with our students and families. Let's gear up, and together, make this year a positive, supportive and engaging year for growth, community, and connection.
District information links:
Go Mavs!
Shannon Conner, Principal, McClure Middle School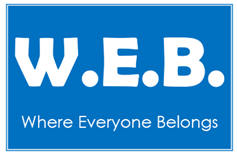 W.E.B. Where Everyone Belongs
6th grade orientation through our Where Everyone Belongs (WEB) program and New Student Orientation for 7th and 8th graders will take place on Thursday, September 1. All other WEB programming will be embedded in the school year amongst other activities to support our kids in building confidence and connectedness. Our 8th grade WEB Leaders will co-lead small groups of 6th graders throughout the school year and provide supports, community-building activities and coaching to help our amazing 6th graders feel successful and known as they transition into our great school.
Thur., Sept. 1st 10:00 – 12:00 Noon, Orientation for 6th Graders and all New Students
Summer Reading Info Need some book suggestions? The Mavericks Read list is an annual list of books recommended by McClure's librarian! This is OPTIONAL reading, not required. Please note that titles marked as YA are recommended for 8th graders and up, as they are young adult
books with more mature content–but students and families always get to make their own decisions about what to read.
Summer Book Bingo encourages readers to branch out and try new categories of books. Submit your BINGO sheet to Seattle Public Library by Sept. 6 for a chance to win prizes! 
School Supply List
3 ring or 6-8 pocket binder
Pencil pouch
6 index dividers
1 pack loose leaf lined notebook paper
Spiral notebook for Spanish students
6 composition books; 3 per semester
3" X 3" post-its (4 packs)
Ballpoint pens (blue/black)
#2 pencils
Eraser
Ruler (metric and standard markings)
Glue sticks (1-2)
Highlighters
Kleenex
Refillable water bottle!
Please note: some courses may request additional material costs – for example, Spanish workbooks, music sheets, etc.). Sharpies and laser pens are prohibited on campus (McClure/SPS Policy)