Family Newsletter 12/9/22
Posted: | Updated:
Family Newsletter 12/9/22
Hello Maverick families!
I wanted to take a minute at this busy and festive time of year to thank our amazing community for all you continue to do for our wonderful school. Thank you for your donations, for supporting our families in need, volunteering, teaming with us to support and grow your children and for entrusting us with your amazing kids every day! I wish you and yours a fantastic holiday season.
Regular school week next week except Friday, December 16th, early release by 1 hour: 2:45!!
McClure Open House for New/Rising 6th Grade Families!!
McClure will be hosting its IN-PERSON Open House for families who will be new in the 2023-24 school year. If you have an incoming 6th grader in the 2023-24 school year and/or have a neighborhood friend who has one, please let them know about this event! The event will take place 6:00-7:00!
WEB Event Gingerbread House Making!
Our 8th grade Where Everyone Belongs (WEB) leaders led a group exercise focusing on teamwork (and sweetness!) with their 6th grade Webbies this week. WEB teams worked together to create gingerbread houses and focused on being inclusive, creative, and cooperative. The outcomes (pictured below) were judged by staff based on 1) most amount of candy used, 2) most creative and 3) best in show. We are eagerly awaiting the outcome! As you can see, some of our houses went through an earthquake It was really fun to see our kids working together and having fun…we haven't done the gingerbread activity since before the pandemic! It felt joyful and yet another return to normalcy that we have been longing for!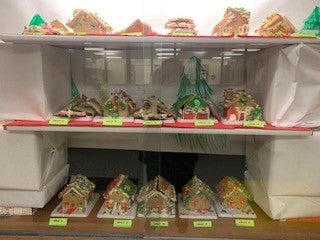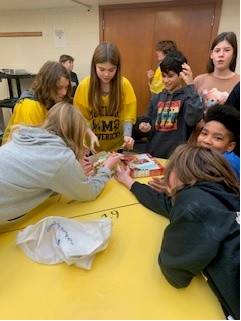 Spirit Week NEXT WEEK!!
Monday– Ugly Sweater Day
Tuesday – Decades Day
Wednesday – Wacky Wednesday (wacky hair, mismatched clothes, etc.)
Thursday – Pajama Day and Movie Day in Advisory
Friday – Dress as your favorite holiday
Go Mavs! And HAPPY HOLIDAYS!!!